UrbanDaddies had the pleasure of setting sail with the Disney Fantasy for its preview voyage.  Over the course of the three days, we picked up a few Disney Fantasy Tips for Dads.  And BTW, if you ever do a cruise with the family, this has to be it.
1.  Buy a beer mug for $15 as soon as you get on the ship.  For the rest of your voyage you get 22 oz. for the price of 16oz and you can refill it as much as you want.
2.  Make a reservation (or several) at Palo as soon as you get on the ship.  Better yet, check in online up to 48 hours before you sail and do it then.
3.  Get to the ship as early as possible on your day of departure and use the AquaDuck lots before the lines begin.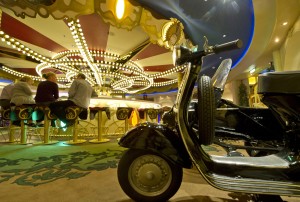 4.  The men's rooms are equipped with low urinals for toddlers, change tables and sometimes diaper genies so you can impress your partner by offering to do the potty trips.  (She needn't ever know how easy Disney makes it).
5.  Use the Small World Nursery, Oceaneer Club and Oceaneer Lab to their full advantage (the kids won't want to leave anyway) and try the adult-only bars and clubs.  Skyline is chic, Oh La La is like a Parisian boudoir, the Tube is total funky London, La Piazaa oozes Italian flair and O'Gills Pub is super cool.
6.  Disney does a great job at segregating infants, kids, tweens and teenagers so they can hang with their own peeps.
7.  Get a stateroom on Deck 5.  Their balconies are twice as deep as on other decks.
8.  Carry your Wave Phone with you to eliminate texting and internet charges while you are at sea.  Disney provides 2 of these phones in every room and they are free to use.
9.  Put a GPS tracker on your kids (it's attached to a wristband) while in the cruise ship terminal.  They use it to check into kids' clubs and can be located in an instant by staff.
10. Make sure you carry your Personal Navigator (the daily schedule delivered to your stateroom each night) so you know what's going on.  You wouldn't want to miss a chance to wait for those princess photo ops.  For the kids of course.
11. Order half sizes of a few appetizers to share.  The waitstaff will honour every whim and the food is to die for.
12. Do the 5k run early in the morning at Castaway Cay – Disney's private island.  (Reason: See #11).
13.  The Midship Detective Agency (register on Deck 5) will keep kids and adults busy for hours and help everyone navigate the ship.  The art throughout the vessel comes to life and helps you solve crimes.  Sherlock.
14.  If you bear a strong resemblance to Brad Pitt, or just want a bit of privacy, the rooms on Deck 11 and 12 come with a private concierge area and dining room.  So you won't be hounded for autographs.
15.  Because you have so many food choices, try to nudge the kids out of their comfort zones by ordering atypical dishes from the extensive children's menus.  You can always resort to Mac and Cheese, chicken fingers, hotdogs and pizza later.  (For you too via room service after having too much fun at the Tube).
Disclosure: UrbanMommies Media was provided a 3-night vacation on the Disney Fantasy, a shipboard credit and airfare for one.  As always, our opinions are our own.