Yes, gentlemen, there are some exceptional electronic devices out there, designed to entertain and stimulate…and waste a whole lot of time, to boot! Here are my five current favorites that I have on my X-Mas list!Smart Phone and Portable Gaming Device All-in-One
Sony Xperia Play
For the Dad who likes to surf the web and play video games (i.e., ME!) while on the go, Sony is offering a sweet new toy for gadget loving guys (and girls, to be fair). The best way to describe this gizmo is as an Android SmartPhone with an integrated PSP (PlayStation Portable). With over 50 game titles available, Dad will enjoy hours of entertainment on his phone. Verizon offers this phone for $200 after rebates, with a 2-year contract.
Excellent e-book Reader
Amazon Kindle with Special Offers
If pop-up ads do not bother you, Amazon has a sweet deal. You can now buy a Kindle e-book reader much cheaper than before, provided you allow it to notify you of special offers. The special offers you are notified of are discounts from Amazon, so many of the pop-ups will be welcome information rahter invasive marketing. $164 from www.amazon.com.
Blu-ray Player with Extras
Panasonic DMP-BD75
$100
Blu-ray is the lastest craze in high-def video, but why not choose a player that does more than just read discs? Attach this Panasonic Blu-ray player to a broadband internet connection and open up a whole new world of functionality. With the internet, this player can stream movies from providers like Netflix and others, as well as music from Pandora. The upgrade from this model is the DMP-BDT110 ($135) that includes Wi-Fi and adds in 3D. This version can even make video calls using Skype and a web cam.
3D TV with Freebie Glasses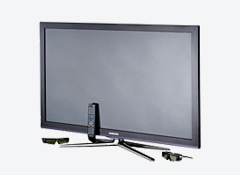 Samsung PN50C490
$860
If you spring for the upgraded Blu-ray player with 3D functionality, you need a 3D plasma TV to go with it. This 50-inch model from Samsung does not offers a ton of features, and the resolution is somewhat limited (720p), but it is extremely affordable at only $860, and the 2D and 3D pictures are amazing for such a low price. Additionally, Samsung has a special offers that nets you two pairs of 3D glasses for free.