Summer birthdays can be a ton of fun – especially if you are as handy as you are handsome. A simple bullseye, an exercise band and a sponge soaked with water entertained kids at this Angry Birds party for hours.
Activities:
1. Hide easter eggs filled with treats all over the yard and have the kids collect them.
2. Build a tower out of cardboard boxes and have the kids throw their shoes at it to knock it down.
3. Use black, red, white, yellow and blue balloons.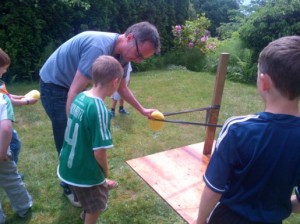 4. Set up a bowling game with green soda bottles as pigs and a red or yellow balloon with a face as the bird. Idea: Spaceships and Laserbeams.
5. Crafty Teacher Mom sets up a 'Peg the Pigs' game that looks like serious fun.
6. Serve popcorn in TNT containers like in this fantastic party by Catch My Party.
Have a 'blast'!